Before James Dean was a Hollywood heartthrob invading the silver screen with a cigarette hanging out of his mouth. Before he was a mysterious rebel with dark, burrowing eyes and sex appeal that made women swoon, Dean was starring on a different stage.
The stage of high school sports.
And he made people swoon there, too.
At Fairmount High, he was known as "Jimmy" Dean, a gritty sports phenom who wore glasses and didn't really look much like an athlete. But he was a 3-sport letterman, who drained shots on the basketball court, set records in track and was a star baseball slugger.
Dean's feats on the court and field were so revered in his hometown that when he died in 1955 at the age of 24, The Fairmount News put out a special edition the next day, heralding their local star.
"In Memory of James Dean" topped the front page of the newspaper in thick black letters with a photo of Dean's chiseled movie star face. But just below that version of Dean, there was another photo of Dean leaning forward in thick glasses, short shorts, holding a basketball.
Next to the photo are two simple words: "Basketball star."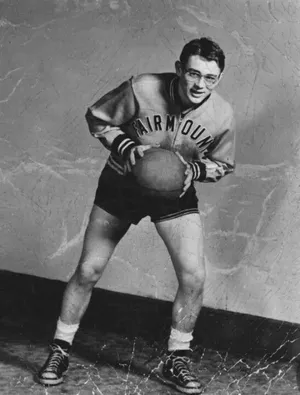 To the people of Fairmount, that was exactly who Jimmy was. "He was not a rebel," said Dean's Fairmount basketball teammate, Jim Grindle, in 2011. "Jimmy was an ordinary person with a tremendous amount of talent. A very good athlete."
But through the years, it seemed, Dean's flashy movie star career had overshadowed his high school athletic accomplishments.
And the curator of The James Dean Museum in Fairmount didn't think that was right.
'What do I have to do to get him in?'
That curator, Dorothy Schultz, was giving a tour of the museum not long ago. She was showing off all the relics from Dean's short life, including his athletic accomplishments.
Unbeknownst to Schultz, the man on the tour, Randy Holt, was a board member of the Grant County Sports Hall of Fame. "I don't think Jimmy is in," Holt told her that day.
Schultz was shocked. She couldn't believe Dean hadn't been inducted into his county's sports hall of fame. "What do I have to do to get him in?" she asked Holt.
And that's how Schultz's campaign to get Dean into the Grant County Sports Hall of Fame began.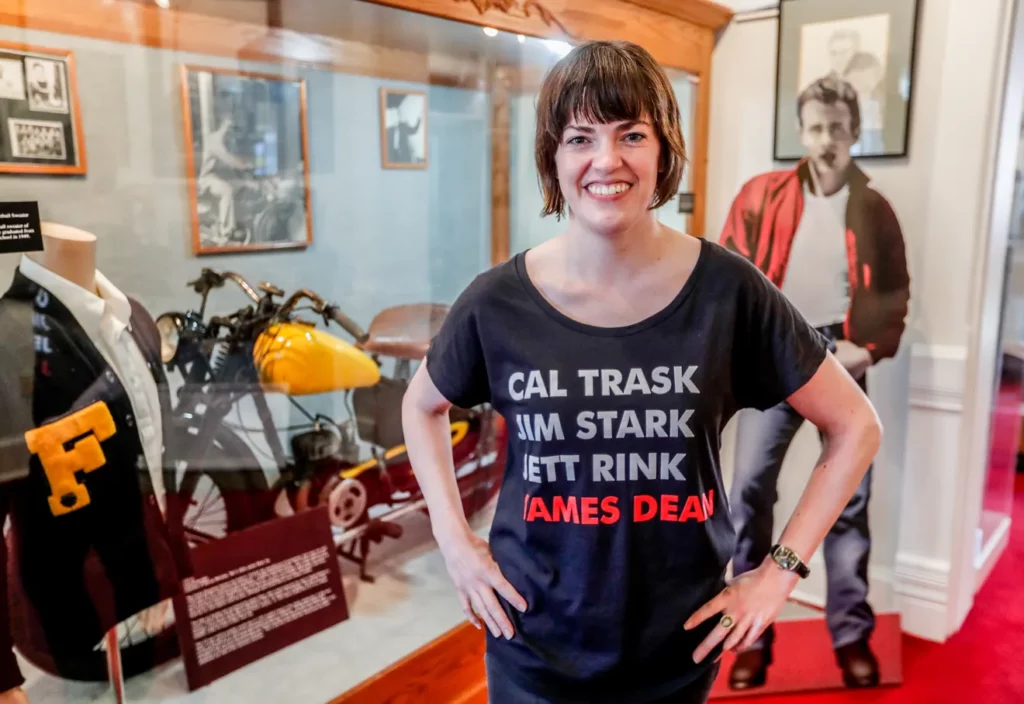 Schultz already knew a lot about Dean's athletic feats, but she researched even more. She wrote a report of all his basketball, baseball, track and racing stats and gave it to Holt.
"He was usually good at about anything he tried," said Grindle. And Dean tried a lot of different things in high school — drama, art, debate and band. At his graduation in May 1949, Dean received the top award for art and others for drama, not surprising for the Dean the world remembers.
But he also received a medal inscribed with these words: "Jimmy Dean, Fairmount High's Top Athlete of the Year."
As a high school basketball player, Dean was 5-8, 160 pounds and could "knock the eyes out of a basket," according to a newspaper article after a sectional game.
Dean's best shot would be considered a 3-pointer today. He liked shooting from the outside, a two-handed set shot. Dean was the second-leading scorer at Fairmount his senior year.
One of Dean's best games came in the sectional finals, playing against county rival Marion — a perennial powerhouse in the state. Fairmount lost to the Giants, 40-34, but to come so close was unheard of for Fairmount. Dean scored 15 of his team's 34 points and was the leading scorer in all three sectional games.
"Jimmy was really the star of the game," Grant County journalist Earl Conn once said. "He was the thorn in the side of Marion."
Next to Dean's basketball photo in the Fairmount yearbook, it read: "Dean, a brilliant senior guard was one of the main cogs in the Quakers' starting lineup this season. (He) was rated as one of the most outstanding guards in the county."
But Dean wasn't just outstanding in basketball. He held the Grant County record for pole vaulting, ran on the half-mile relay team and competed in hurdles.
On the baseball team, he played third base and was a solid batter. Outside of the school team, he played American Legion Baseball where he had a batting average of .333.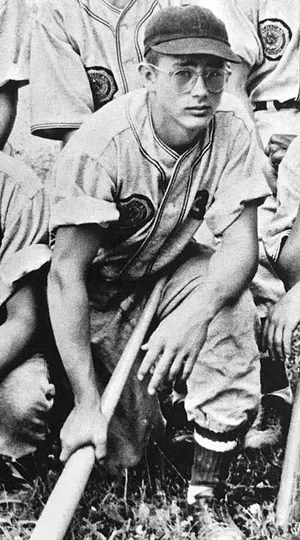 Aside from his school sports, Dean grew up loving auto racing. The passion was rooted when his Methodist minister, James DeWeerd, took him to an Indianapolis 500 race as a boy. Dean went on to become a standout racer.
Schultz wrote all of that up, all these amazing accomplishments Dean made in sports, and gave her report to Holt, who presented it at a Grant County Sports Hall of Fame board meeting.
Schultz waited in anticipation to find out. Would the board finally vote to induct Dean?
Yes, Schultz said, "They finally did."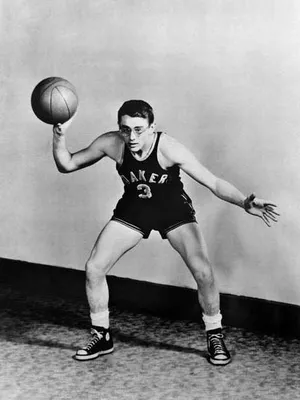 Attend James Dean's hall of fame induction
James Dean played Basketball at Fairmount High School.
James Dean will be inducted into the Grant County Sports Hall of Fame Sunday, Aug. 6 at the Grant County Family YMCA, where he played his last high school basketball game. It is located at 123 Sutter Way, Marion. Doors open at 3:45 p.m. to the public. Admission is free.
Dean's cousin, Marcus Winslow, will give an acceptance speech on behalf of Dean and relics of his Fairmount High School sports career, including a basketball warmup jacket, will be on display.